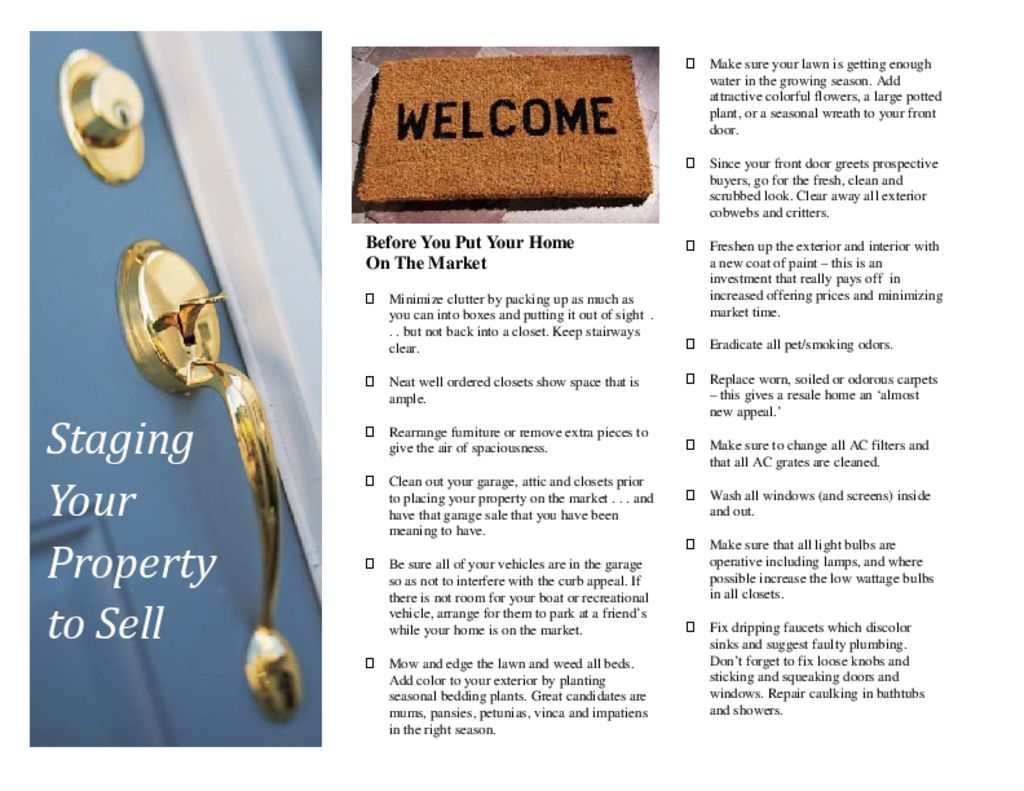 First time sellers have many questions about how to stage and prepare their homes to sell. Check out some questions from our clients and some answers from Catalano & Associates Realty's own broker, Christina Catalano.
(If you have any questions of your own, feel free to enter them into the comments field below.)
Q: How do we prepare our home to list for sale?
A: Arrange your furniture to open up the space and remove extra large or crowded pieces. Clean out your closets and pantry so they are neat and look larger (even if you have to pack some items away for moving). Mow and edge your grass, and give the landscaping any needed attention. Curb appeal goes a long way! Wipe windows and capture cobwebs, check light bulbs and make sure they are all working and bright.
Finish up any needed repairs like dripping faucets, squeaky doors, loose knobs and handles, dirty air filters, and caulking in showers. Show potential buyers that you have cared for and loved this home and they can do the same. Repaint or repair any chipping paint, holes in walls, cracks and nail pops, worn or stained carpets, pet chews or claw marks, and cracked window glass.
Q: How do we make buyers feel at home?
A: Before you put your property on the market, try to step back and view the home through a strangers eyes. Walk into the front door and see what you notice. Is the home inviting and warm feeling? It should be! Your property should be welcoming and clean. Make sure the AC is on in the summer, and the heat is on in the winter. Making buyers comfortable will help them stay longer and view more of your home.
Q: Do we have to fill out the Sellers Disclosure and find our old Survey?
A: You really want to have the disclosure completed before you list the home. Serious buyers will want to take a look at the Sellers Disclosure to find out the history and condition of the home. It's great to have a copy of the disclosure in the house for the buyers to view while they are there. They also appreciate seeing the survey and T47 Property Affidavit at that time, plus finding your original survey could save you $500! Most importantly, it shows again that you are a motivated and caring seller who pays attention to detail. Buyers assume that you took care of the home in the same serious and detailed way, never letting needed repairs get ahead of you.
Q: Does the market determine what we need to do to sell our property?
A: Of Course! If you are in a buyers market, you want to do everything you can to position your home to outshine other options for the buyer. Your property needs to be more inviting, better kept, and more impressive than your competition. It better really shine to get top dollar and sell more quickly. If you are in a sellers market, your home doesn't have to be as amazing as in a buyers market, but you still want your home to sell in a reasonable amount of time and for top dollar. Catalano & Associates Realty will always sit down with our sellers and discuss market conditions and what needs to be done to position the property best in the current market.



Be sure to request your exclusive

First Time Home Seller Guide

. It includes Staging Your Property to Sell, 20 Low Cost Ways to Spruce Up Your Home, Landscaping – Little Touches Make the Difference, and 17 Simple Things to Make Your Home More Marketable, and more! Click Here to request the packet with even more tips from Catalano & Associates Realty's

First Time Home Seller Program!