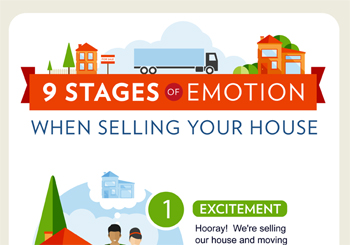 The graphic below from the National Association of Realtors®  represents the emotional process of selling a home.  At Catalano & Associates Realty, we believe this is even more appropriate for First Time Home Sellers!  You probably already know that buying a home is an emotional process, but did you think about the ups and downs of selling your first home?

Selling your first home can be scary; you have lived there for some major milestones over the years.  Chances are good that it is the biggest investment you have ever made.  It is normal to be nervous, excited, and unsure at the same time.
Try and do the emotional work in advance.  Take a look at your home and see the flaws that make it not the perfect home for you anymore.  Is it too small for your growing family?  Is the drive to work way too far?  Do you need a larger yard or a more open floor plan?  You can begin the process of detachment early, by acknowledging your memories in the home and looking forward to making new ones in your next home.
Be prepared for a bit of sellers' remorse, but imagine the exciting next stages of your life.  Moving into your new home may give you opportunities to explore a new community, meet new people, and make new memories.  Always try and keep your goal in sight, and talk through any concerns with your Real Estate Professional.  We will be there every step of the way!